Blog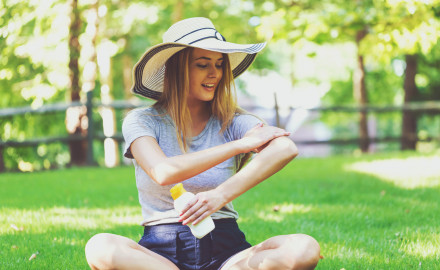 How to Protect Your Skin
The largest external organ on the human body is the skin. We're advised to take care of ourselves with balanced diets, regular exercise, hydration, and regular physical exams, but we don't typically hear the same consistent advice when it comes to our skin — especially outside of the summer months.
The reality is that skin needs to be protected all year round. Extra care and attention are needed during the summer months, when warmer weather and longer days equate to more direct contact with the sun; however, exposure to the sun doesn't end during the fall and winter seasons. Sun damage, or sunburn, might not seem like a significant issue, especially when it is only mild to moderate; but over the course of a life, the impact can add up and result in serious illness.
Fortunately, dedication to protecting your skin is largely common sense and merely requires some planning and additional effort.
How to protect your skin (all year long)
Use sunscreen with SPF35 or higher and carefully review package instructions for directions on reapplication needs, water/sweat resistance, etc.
Wear light-colored layers and a hat outdoors; cover skin whenever possible.
Stay indoors if possible when the sun is most intense, usually between 10am and 3pm.
Use an umbrella outdoors, but combine it with wearing light-colored clothing and using sunscreen. Don't rely on an umbrella alone for protection as materials that umbrellas are made of with don't fully block the sun's rays.
If sunburned, treat quickly and consistently until the burn is healed.

Moisturize with gentle lotions and creams; many "after sun" lotions feature aloe as an ingredient, and this can be soothing on burns.
Avoid irritating/harsh products on the skin; don't exfoliate when sunburned.
Be extra careful when shaving so as not to cut sensitive, damaged skin.
Stay hydrated; dehydration leads to dry skin, which can further crack burned skin.
When to see a doctor
If the skin begins to blister
If the pain is moderate to severe
If a fever occurs
If healing doesn't begin after 48 hours
If the signs of infection — pain, tenderness, swelling, pus — are present
If you become nauseous or dizzy
Back to blog