Blog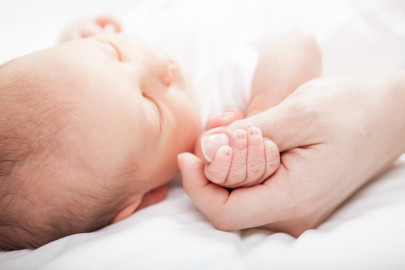 The CPMC Women and Children's Center New Van Ness Campus
This article by Dr. Laurie Green was originally published on Sutter Health.
Designed for the Times: New San Francisco Hospital Embraces Mature Moms
The CPMC Women and Children's Center at the new Van Ness Campus will set the standard for hospital-based childbirth for a growing number of moms in their 30s and beyond.
SAN FRANCISCO — Women in San Francisco become mothers later in life than anywhere else in the country. According to a recent New York Times report, the average age of first-time moms in San Francisco County is 32, and that number goes up to 33 among women who have a college degree.
Yuan-Da Fan, M.D., chairman of the obstetrics and gynecology department at California Pacific Medical Center(CPMC ), a part of the Sutter Health not-for-profit network, sees the trend toward older motherhood every day. "Forty-seven percent of women who delivered at the California Campus in 2016 were age 35 or older – that's the highest percentage of mature moms among all of the birthing hospitals in San Francisco County, and the average age of our delivering mothers is 34.4 years old," said Dr. Fan. "Our oldest first-time mother delivered at age 58."
Private patient room in the Deikel Family Newborn Intensive Care Unit (NICU) at CPMC Van Ness Campus.
Delayed motherhood is increasingly common, but health experts caution that it carries additional risk. Conceiving, carrying and delivering all become increasingly difficult later in life; and pregnancies are formally classified as "high-risk" if the mother is 35 or older, if in-vitro fertilization was utilized or if the mom is carrying twins or triplets – even if no other medical conditions or complications are present.
"Advanced maternal age is associated with higher risk of miscarriage, preterm birth, cesarean delivery, complications during labor, and fetal abnormalities" Dr. Fan continued.
CPMC has organized its services to decrease those risks wherever possible; providing the most sophisticated testing and monitoring during pregnancy, the highest level of care during labor and delivery and access to specialized newborn care.
"We take care of some of the most complicated pregnancies and difficult deliveries, including moms with gestational diabetes, preeclampsia, heart problems, and yet we have high quality outcomes," said Dr. Fan. "And we strive to help even high-risk patients achieve low intervention births if that is their goal."
Outcomes from the CPMC California Campus include:
No routine C-sections or inductions, before 39 weeks, in past two years.
22.1 percent C-section rate among first-time moms with low-risk pregnancies, which is below the state goal of 23.9 percent.
Lower rate of unexpected newborn complications (0.9 percent), compared to the average of all birthing hospitals in San Francisco County (1.5 percent).
"We intend to continue providing the safest care to our older and complicated patients when our obstetrics unit and team move from CPMC's California Campus, our home since 1875, to the new CPMC Van Ness Campus, while also extending our support for low intervention births in this new, family-centered facility," Dr. Fan stated. "As the father of three daughters, including twins, and the grandfather of three, I know that your child's birth is an experience you remember the rest of your life. Our goal is to celebrate each and every birth with successful outcomes and happy memories for all of our patients."
This article by Dr. Laurie Green was originally published on Sutter Health.
Back to blog